[2.5.2022] Together with the network operator DNS: NET, several municipalities in Brandenburg and Saxony-Anhalt are implementing gigabit expansion, thus increasing their attractiveness as residential and commercial sites.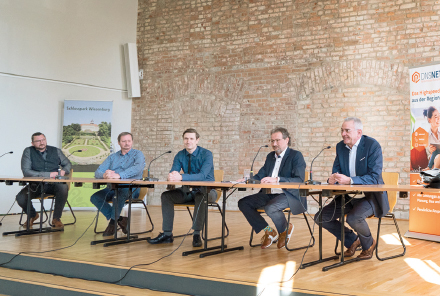 Municipalities in Brandenburg and Saxony-Anhalt are increasingly relying on fiber-to-the-home (FTTH) expansion and are looking for regional partners who can expand and guarantee higher frequency bands. In 2021, several municipalities in the Potsdam-Mittlemark region decided in favor of gigabit expansion, including Stahnsdorf, where 1,000 km of fiber-optic cable will be laid for about 7,000 households, and Michendorf, also with nearly 1,000 km of optical fiber for about 6,000 households. Even deprived regions and villages of a few hundred residents, such as Wiesenburg/Mark, secure gigabit infrastructure through cooperation agreements. In Brandenburg another hundred thousand families are being planned and processed for expansion to self-sufficiency. For Haveland, Barnim, Marksch-Oderland and Duhm-Spreewald counties, 2022 is clearly set for FTTH expansion.
Sequential development of individual provinces
In the southern part of Brandenburg, the city administration and council officials no longer want to wait for a reliable fiber-optic infrastructure. In December 2021, a cooperation agreement was signed between the city and network operator DNS: NET in Luckau. In a coordinated sequence with the city, the different areas will be developed successively using optical fibers up to 2500 megabits per second (Mbit/s). In Neuenhagen, more than 9,000 families were fitted with gigabit speeds, and construction began immediately after the contract was signed. There are also high rates of pre-marketing in neighboring communities as well as other requests for collaboration, which should begin in the spring of 2022.
In Barnim County, many communities are connected to the DNS: NET, new communities are added every month, sometimes at impressive rates, as in Bernau (23,000 households), where there are premarketing rates of more than 80 percent in individual counties. In Bankital, more than 10,000 households will be independently developed and connected to the fiber optic network across the board. Data rates of up to 2.5 gigabits per second (Gbit/s) can be achieved.
In the Teltow-Fläming region, the town of Trebbin, among other regions, is being expanded independently. "As a regional partner, DNS:NET is immediately able to implement a large-scale expansion of FTTH in a very short time, and this is demonstrated in many other regions of the federal state by connecting previously underserved or hard-to-fund regions or regions with a funding gap Thus, Trebbin has a good opportunity to provide this fiber-optic infrastructure to more than 6,000 households," says Stefan Hollighaus, Member of the Board of Directors of DNS:NET.
good dynamics
Thanks to the cooperation agreement, data rates of up to 2.5 Gbit/s can soon be provided to approximately 6000 households in Brieselang in the Havelland region and another 500 households in the Bredow and Zeestow counties. Wustermark and Dallgow-Döberitz (population 10,300) have entered into partnerships with DNS:NET. "We are very pleased that the self-sustaining expansion of mid-sized companies is creating good dynamics in fiber-optic expansion and that the region is being provided with the most attractive bandwidth bands," says Dallgow Mayor Sven Richter.
Municipalities in Saxony-Anhalt are also benefiting from the expansion of optical fibers with the network operator DNS: NET. ARGE broadband in the Börde region and the Zweckverband Broadband Altmark are making good progress in their efforts to create municipal giant networks. In addition, many municipalities in the eastern German federal state rely on private sector agreements once funding gaps arise in order to make municipal networks accessible to all citizens.
Sixty-eight percent of the Purdy area has so-called white spots. 1,330 kilometers of civil engineering will be carried out in the eight ARGE municipalities. With the expansion of the municipality's network in the area, the task of equipping educational institutions in ARGE member communities with future scrutiny is also undertaken. Erxleben Primary School is the first school with a fiber optic connection in the Erxleben municipal district. "All the training for classmates is done, kids can use their iPads and digital tools normally every day, and the school cloud is set up. Interactive boards with the school cloud inspire students, as sending information and uploading data through the cloud makes school work incredibly easier," Comments Moderator Ute Urban. "We are also pleased that the educational apps on iPad are so well received by children that they support learning."
Final finish at hand
Matthias Weiss, Mayor of Fleshtingen Municipality adds: "We will soon connect two more schools in the member municipality of Calvoorde, then we will be able to connect all primary and secondary schools to the network. With regard to the municipal broadband network ARGE, it can also be said that civil engineering in the linked community is almost complete. , apart from a few closing gaps and road and railway junctions. Currently, fiber-optic cables are being blown up in the 3rd member municipality of Altenhausen and then the installation will be expanded to Erxleben and Calvörde accordingly. So the final completion of the network is near." Confirms Holger Haupt , Head of the Federation and the Broadband Division: "We are getting more and more into the fine-tuning of the municipal giga network." Whether it is the commissioning of public WLANs, the connections of more and more commercial enterprises and residential construction, a future-oriented educational infrastructure or the stated goal of a network giga nationwide in County Börde."
Also at Altmark, the expansion of optical fibers continues in all areas. Zweckverband Broadband Altmark (ZBA) follows the strategy of developing the 4,700 square kilometer decentralized and underserved Altmark area with a comprehensive and clear future fiber optic network. The first project area and expansion set have been completed and can go into regular operation at 500Mbit/s. In the Köckte district of Tangermünde, the starting bar was cut on February 24, 2022 and the red button was pressed to start the Altmark network.
Escape from the patchwork quilt
In addition, cooperation agreements have been concluded with DNS:NET in many cities and consolidated communities such as Osterburg, Bismark, Arendsee and Gardelegen in order to ensure that no household is left with insufficient supplies. This affects not only small villages, but also large areas want to survive the patchwork quilt. For example Gardelegen: here all 49 districts in the third largest city after Berlin and Hamburg (over 630 square kilometres) must be able to participate equally in a protective infrastructure for the future. Eight regions are still not supplied with materials and are among the so-called black spots that have not been privately funded or developed. According to DNS:NET representative Hardy Hein, it was a logical decision by the provider to also develop smaller regions and counties where other companies have canceled for economic reasons. Commitment of local citizens strengthens regions.
Hans Goldenbing is a freelance journalist.
https://www.dns-net.de
This article was published in Focus on Broadband Expansion in the March/April 2022 issue of stadt+werk. You can order a copy or subscribe to the magazine here. (deep link)
Keywords: broadband, DNS: NET, Brandenburg, Saxony-Anhalt, FTTH
Image source: T. Corner