It's a touch of Spring Festival. However, it has nothing to do with him, even when there is coffee, women are chatting, children are playing in the sun, and circus director Gerhard Richter teaches them some tricks. Because the scene is the yard of the Social Welfare Office in Neukölln, where refugees from Ukraine have to queue for initial financial assistance.
The lucky ones, almost exclusively of women with children, are the ones who wait for clearance in the morning because they had already lined up in front of the house in the middle of the night and managed to get one of the ninety waiting numbers. The rest have to go again, hopefully for the next day. The county office knows they're upset, but the procedure is better than letting everyone in and then sending them away in the afternoon.
Improvised Care Office
Here, as in other social welfare offices in Berlin, a large number of Ukrainians meet with an administration that was not ready for this and is now improvising. It starts with a kind of parking lane drawn on the sidewalk in front of the house, with the acronym UKR. And it doesn't end with the fact that the word "Kasse" in Ukrainian, along with an arrow, was sprinkled on the sidewalk: anyone who was approved for help would get a payout card for the pay machine in the neighboring town hall.
Two tents were erected, one – as a hall – for heating. On the other hand, Lika and Daniela distributed coffee, tea, water and glucose, volunteers from Neukölln Engagement Center NEZ. "I come at eight in the morning," Lika says, "at 8:30 in the morning people with a waiting number are let in and they are frozen." Hot drinks are very welcome there.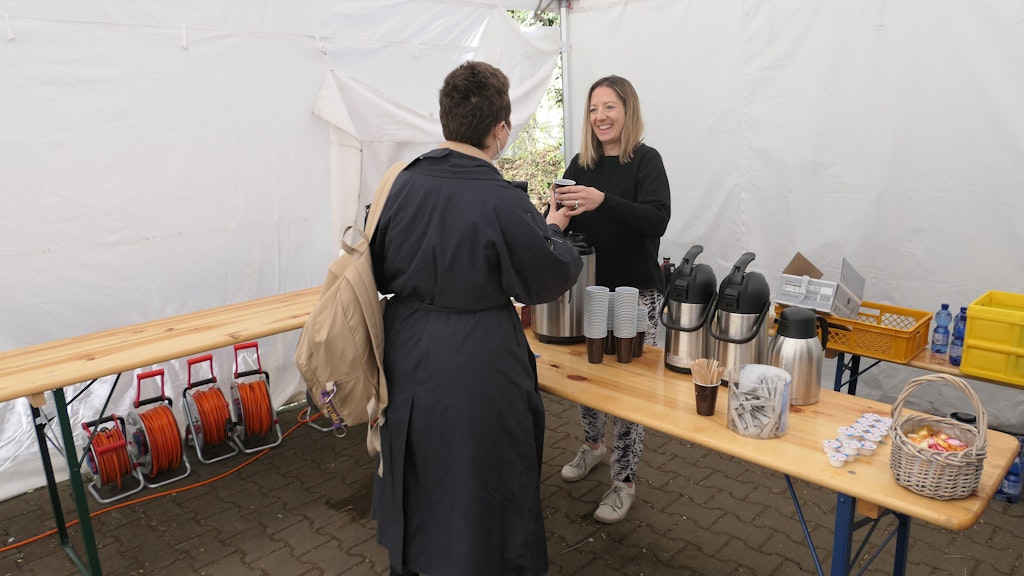 From 9 a.m. to 5 p.m., 90 cases – individuals or families – can be treated, more than ten cases just a few days ago. The number was up to 210 people. You must present an ID card or a Ukrainian passport, without a photo you can not do anything, even for small children. For them, parents must obtain a paper from the Ukrainian embassy.
A security man who speaks German, Ukrainian and three other languages
Each applicant gets a folder where they can enter their details, and then it's time to wait. Help is available even before entering the offices from some security guards. One speaks Ukrainian, Romanian, Bulgarian, Russian and German. He is also influenced by the mood of the refugees: "About half of them are very grateful, and the other half blames Germany for the war in Ukraine. So they are obliged to help. "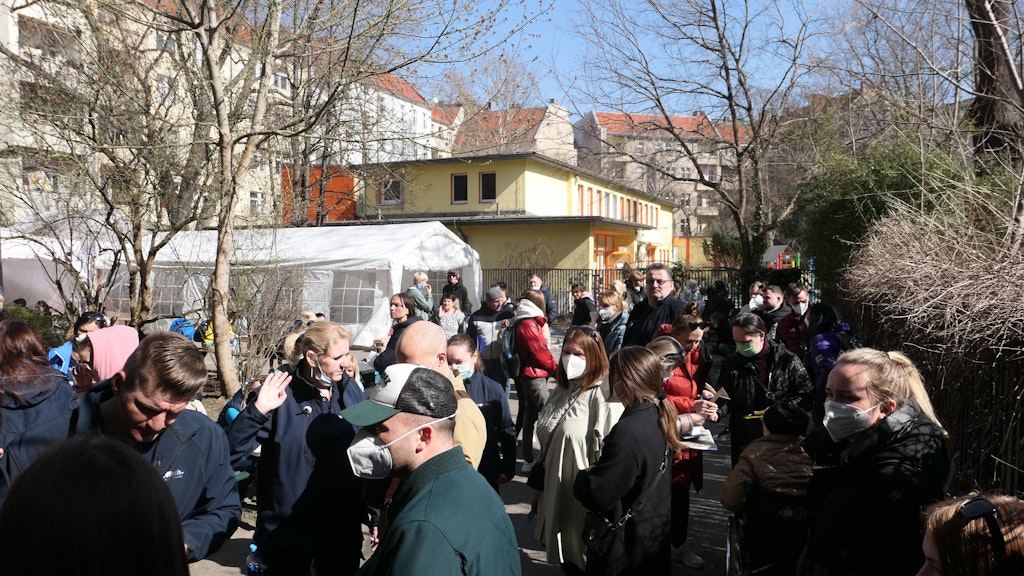 In any case, children can quickly get bored. Here is Circus Mondeo, which in 2015 helped the Neukölln region take care of Syrian refugee children. Director Gerhard Richter, who, unlike at the time, has not yet discovered any traumatized children, spins plastic dishes on wooden sticks and then passes them. At the end, four-year-old Sasha from Odessa holds three sticks in his hands with turntables and enthusiastically calls his mother Katerina to show her his skills.
Katerina came to Berlin from Odessa with her three children
She waited hours for fluids to buy necessities for her and her three sons, Sasha, Ivan, 16, and Nikolai, 12. The husband and father had been in Berlin for two days, and had to stay in Ukraine. They also want to stay in Berlin because they know the people here, and they are very lucky: they have already found an apartment.
This is lucky, says Alisa (26 years old) from Odessa, who calls herself a psychotherapist. She says she was surprised by the war while on vacation in Turkey. Since March 6 in Berlin, I have helped at the main train station to take care of the citizens who have arrived there. "Many are so suspicious of everyone," she says, "The attack of Russia, our former brothers, is tantamount to usurping them." If there is anything good in the war, it strengthens the united Ukrainian nation.
The office can handle 90 requests per day
This thought should not move those who are waiting, because processing does not take place as quickly as one might hope. Every application for financial aid must be written in the Open/Prosoz system, and not every employee can do this.
One of the purposes of the system is to prevent misuse, so that no one can collect money on Mondays in Neukölln, on Tuesdays in Pankow and on Wednesdays in Spandau. That could add: for single people and heads of household, there are 367 euros per month, 330 for their partners, and for children depending on their age from 249 to 326 euros, according to the Federal Ministry of Social Affairs. In Neukölln alone, 120 thousand euros were recently paid per day.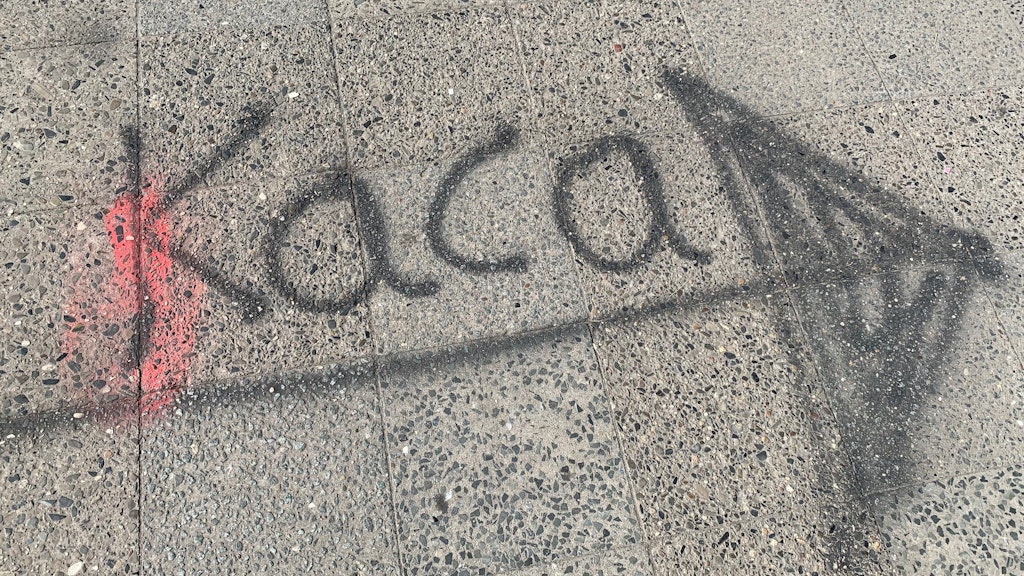 The Social Welfare Office in Neukölln has also been caught by surprise in terms of staff. Of the four employees of the office that takes care of asylum seekers and is now also responsible for refugees, only one was available, says city counselor for social affairs, Falko Lieke (CDU). A colleague who is permanently ill, colleague on maternity leave, employee seconded to the anti-epidemic crew.
Because of the redeployment within the Social Welfare Office, about a dozen employees now interact with Ukrainians, which creates gaps elsewhere, because assistance to the homeless, the disabled or people entitled to basic safety must continue.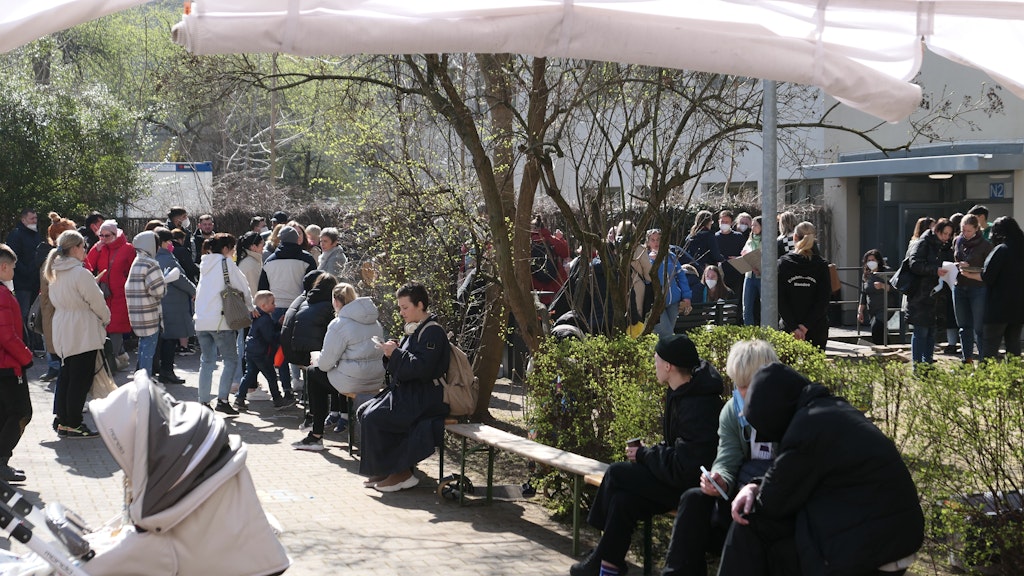 Trainees are now deployed to the Senior Service of the District Office, as well as young employees who have just completed their training and people who have sent unsolicited requests to the District Office: they are trained for two days at the Management Academy in order to be able to work with Open/Prosoz. Liecke's division hopes to be able to hire ten more employees within two or three weeks and begin the two-shift process. Because now, says Liecke and the eleven other members of the Berlin Council, their personnel are working excessively long hours.
Very few registered refugees
Another hope is that more Ukrainians will be registered as refugees at the Tegel Arrival Center. "To our knowledge, no one has been registered here yet," Liecke employees say. If people are registered, they can be distributed to other federal states, and social welfare offices in Berlin will be exempt.
In the meantime, they are said to be trying to avoid burnout in another way: They pay the money not just for one month, but for two or even three months so that people don't have to go back again. Neukölln is not alone in not wanting to officially confirm this.
Incidentally, the benefits accruing to refugees are based on the Asylum Seekers Benefits Act, although refugees are not asylum seekers. This is due to the fact, as one Liecke employee explains, that the EU's "Collective Flow Directive" applies and enables the right of residence without asylum.