Status: 08.04.2022 3:00 PM
by Jorgpeter von Clarenau
Children's news is always available on Saturdays at NDR Info.
This time we talked to four students from Schleswig-Holstein about these topics:
While the Russian attacks continue, there is a lot of support for Ukraine.
We also address the fact that wearing a mask can now be decided for yourself in many places.
And we're talking to the kids about International Siblings Day – we wanted to know from the students if they had siblings themselves, and that's cool or annoying about it, or if they'd like to have a sibling.
1. Help for Ukraine
In Hamburg, a Ukrainian refugee family searches for clothes and toys in a clothing store.
Children from Schleswig-Holstein: Ukraine was invaded. I've heard that different countries are sending weapons to Ukraine because Ukraine needs to be able to defend itself, otherwise Russia really wins outright if Ukraine can't defend itself at all – they need weapons for that.
Children's news NDR Info: So far, not all hopes of ending the war have been fulfilled. On orders from President Putin, Russian soldiers continue to attack neighboring Ukraine. Putin's army has already caused havoc. Russia claims that it attacks only military targets. But hundreds of homes have already been destroyed. Even hospitals and schools were bombed with missiles and bombs. Many civilians have already died.
The governments of the United States and all countries of the European Union – in short: the European Union – to which Germany belongs, call this a war criminal. They are trying to help Ukraine with weapons.
Speaking of help: There is a lot of help all over Europe, and people in Germany are also trying to help the Ukrainian population. It provides thousands of refugees with sleeping places, collects money and donates useful things. Every day, trucks loaded with relief supplies go to Ukraine to meet the urgent need of the people who stayed there.
Children: Almost everything was blown up and they have to somehow buy provisions: food and drink. For example, I heard that there are many appeals for donations, where you can send food to Ukraine in packages – food or sleeping bags, something like that. We ourselves have already collected the parcels in the class, which we must give to the class teacher, who then sends them to Ukraine.
Children's news NDR Info: This week, assistance programs were also approved for the millions of Ukrainian refugees who now have to seek care here. Hundreds of thousands of Ukrainians have already arrived in Germany alone, many of them children.
Children: I live near the hospital in Videl – it was closed some time ago and many Ukrainians have already moved to it. It is important that we help them, that we are always open – talk to them when they want to talk, and that we welcome them here too. And there are already Ukrainians in our school – that's how you get to know them – and they ask what it's like if they want to talk about it.
2. Corona's new rules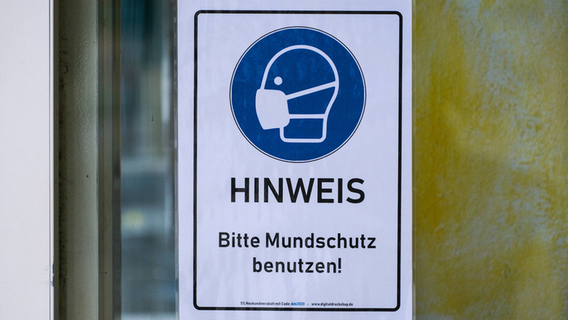 Some stores still require you to wear a mask.
Children: In some federal states, in Schleswig-Holstein, there is no longer a mask requirement – I think in Lower Saxony too. It is claimed that after the Easter holidays, masks will no longer be mandatory in schools – but you should not wear masks in supermarkets or in public either. For shopping, I know a lot of people don't wear masks anymore. In the supermarket, there are some who wear masks, I would say: half of them wear masks – and the other half don't. Well, I can understand that no one wants Corona anymore – and that's really annoying too.
Children's news NDR Info: Corona issue will not leave us. This week there has been an uproar again about the rules that will be in place now or soon to protect against corona.
In the Bundestag, the German parliament in Berlin, there has been a great deal of debate over the question of whether vaccines should soon become mandatory in Germany as in other countries. Several proposals were voted on, but none received a majority. That is, vaccination against corona remains voluntary. This is a defeat for Chancellor Olaf Schultz and Minister of Health Karl Lauterbach: they urgently recommended compulsory vaccination.
When it comes to "testing and masks" topics, a lot is now talking about chaos. While stricter regulations continue to be applied in Hamburg and Mecklenburg-Vorpommern, there are usually no longer any obligations in other federal states. Recommendations only. Regardless of the regulations, many at the moment say: "If in doubt, wear a mask."
Children: The mask is annoying – it's just cumbersome, but I'm going to keep wearing it for now, and I'm doing it because the infection rate is very high right now and there are a lot of injuries and such.
Children's news NDR Info: How much we want to protect ourselves – and others – from Corona, we all have to decide for ourselves in the future. The students we spoke to prefer to be on the safe side when it comes to COVID-19.
Children: The commitment to testing has also been dropped, some people are simply walking around without a mask and not many to be vigilant anymore. I don't think it's a good idea to walk around without a mask just yet. The virus is still present – so.
3rd World Siblings Day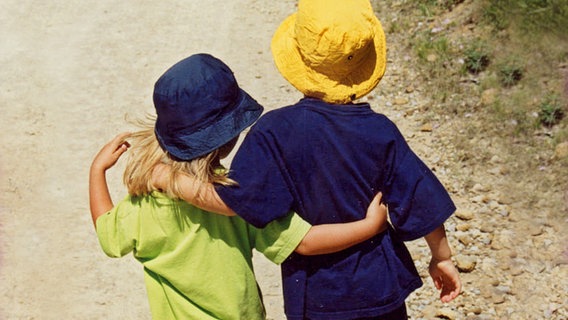 Sometimes siblings get along well – other times they fight violently.
Children's News NDR Info: Everyone knows Mother's Day and Father's Day. But who knows there's also a "Sibs Day"? It is celebrated every year on the 10th of April – that Sunday – and it gives everyone who has siblings a chance to celebrate their best sister and older brother. But of course small sighs are allowed…
We wanted them Children from 6c at the Gebrüder-Humboldt School in Wedel Know: What do you think of "Sibs Day"?
child: "I have my little brother, he's 9, his name is Theo and he's actually very cute and cuddly, but sometimes he really annoys me."
child: "Well, I don't have any siblings – I would like to have some… just now in the Corona period or if you can't go out, you always have some things to play with. But I have a dog for this and they are like a sister to me."
child: "I've always wanted a little sister – everyone was always talking about siblings and what they do on weekends and what they do – I was always really jealous … Now I have a little sister and I love my sister very much, very, very, very, very, very sometimes we argue, But that's not so bad."
You have this week Alma, Tilda and Amelie from Gebrüder-Humboldt (GHS) Wedel Share. Jörgpeter von Clarenau wrote children's news, and Anina Pommerenke called the children.
Of course, you can listen to children's news and subscribe to it as a podcast – and you can Look at sign language.